Eddies. Dips in the surface and shadows on the ground.
I always get really fascinated by watching how eddies are generated by obstacles in a fluid. But it is especially exciting when you don't only see the eddies because you see how they deform the surface, but when the water is clear enough so you can see the "shadows" on the ground!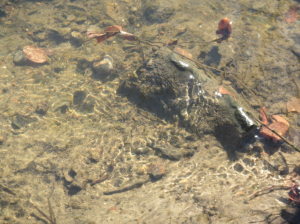 Of course, the dark spots you see aren't shadows, strictly speaking. As light enters the water from the air, it is being refracted. And since the eddies' surface imprints are dips in the surface, light is being refracted away from the perpendicular, leading to a less-well lit area – the dark spots.
But isn't it fascinating to watch how eddies form when the water passes the stick and stones in the water when there is absolutely nothing going on upstream?