Hi, I am Mirjam.
Oceanographer and science communicator.
Kitchen oceanography and wave watching enthusiast, founder of #scicommchall. Dedicated to helping you deliver the science communication of your dreams!
Picture curtesy of Sebi Berens (www.sebiberensphoto.com / @sebiberensphoto). Pullover curtesy of Anna & her mom :-)
What people say about my blog
Hello Mirjam,
First of all, your blog and experiments are great! You can really tell there is a lot of energy and enthusiasm :)
I wanted to ask if […]
R.P. (11/2019)

Hi Mirjam
I wonder if I can use your pictures of interference patterns in the ocean from your post: https://mirjamglessmer.com/2019/03/02/weird-interference-pattern-of-waves/ in my teaching on waves at the teachers education at […]. I have already linked to your blog which I think is helpful for the students. Best regards, […]
I.P. (11/2019)

Dear Mirjam
Great! You did an impressive analysis of the situation! You went much deeper than me into the picture, because you are not only explaining the wave pattern (which is pretty simple, basically two plane waves interfering), you are digging also into the cause of such waves. Nothing to add to your analysis, I agree with it. Excellent. It was not so simple.
Looking at the causes of the phenomena, and not only at the phenomena itself, it is actually the best approach, if not the only, to understanding of things. As a teachers, we must always to invite our student to be curious and explore what is behind. So you are doing a great thing with this and other posts, and I will use it in my classroom as an example of good practice. Thank you, your work is very inspiring.
So, keep in touch for more pictures. I am always with my camera in hand trying to catch interesting things.
All the best
Victor S. (07.2019, in response to the #friendlywaves blogpost I wrote about a picture he sent me)
Not strictly "about my blog", but here is the collected Twitter feedback on my talk on #wavewatching at Science in Public Manchester (link, 07.2019)
I make (and enjoy!) many lab demonstrations of Oceanographic processes, and I find your blog as a great source of inspiration for new ideas. It is great, congrats for it!
V.S. (07.2019)

Brilliant and stimulating as always Dr. Mirjam.
J.B. (05.2019)

Since your Internet site is filled with the description of « kitchen oceanography » experiments, it seems you are the perfect person to answer our questions !
A.F. (05.2019)

Dear Dr.Mirjam,
First of all, I LOVE your work!! The kitchen oceanographer is wonderful, relating what we see every day with science. I also do the same with lab work. […]
S. A. O. (05.2019)
I'm currently writing my thesis on ship generated waves, and I found your blog by searching for pictures of such a subject.
I was very delighted to see your interest in such a subject and to follow your little adventures to try to "catch" the wakes of the ship.
My first question is : can I post one of your picture in my thesis because I find it very adequate and pretty?
My second question, a little bit more technical, is about the waves that are generated by the ship while they are turning. Do you know how those are different from those generated by a ship evolving in straight line?
F.L. (04.2019)

Hi, I'm a big fan of your salt fingering experiment! It's really clear and I would like to use it in my dissertation about doubly diffusive convection.
S.B. (03.2019)

Thank you for sharing your work online, which has inspired me to choose [one of my favourite topics, redacted out to protect the person's anonymity] as the topic of my Magisterarbeit in Science didactics. I am now on my way to the library, excited to know that a copy of your last paper has finally arrived. […] You have a great record in outreach, so I hope you might be interested in hearing how I envisage this.
A.D. (02.2019)

I really enjoy your posts even though I rarely react to them!
K.J.M. (via Facebook, 01.2019)

PS: Dein Büchlein hat meine Zugfahrt am Donnerstag zauberhaft verkürzt – freu mich schon, auf meinen nächsten Spaziergang am Wasser!
Ronja (vom Podcast Treibholz, 12.2018)

Thanks again so much!  Also I am sorry I never wrote back but YES you can use my comments on your blog as a testimonial.  Awesome stuff you are doing.  I finally wrote to you today as we were making the videos today and then I saw your tweet about the ice cubes – our blue ice cubes are stratified blue on bottom and clear on top.  My smaller ice cube tray made them blue throughout. Science is everywhere.
K.F. (10.2018)

I am really enjoying this blog. I am trying to understand hydraulic jumps. Can you explain why faster flowing water slows down? Friction? ( I thought water flows had negligible friction). Collision with slow water?
But how is this maintained? And how does fast flowing water entrain slower water? Is turbulence required? And finally, are hydraulic jumps really any different from standing waves? Do the former just have enough energy to break upstream?
J.B. (09.2018)

Fascinating article! I was looking for a nice diagram to show what happens at a weir and this was perfect!!!
Anonymous commenting on this article (06.2018)

Hi Mirjam – I am always excited when new blog posts come out as it gets me thinking of things in new ways, or in ways that allow me to think of them from my students perspective. One of the strengths of your ice cube experiment (which I love and really enjoyed learning about at the San Fran teaching oceanography workshop a few years ago) is the use of simple easy accessible items. I however loved your idea of using the FLIR (or other camera systems) in lab with students as they think they are exciting and "sciencey" technology. I was super excited when I saw your post but only today just got around to reading it however, as we plan for next semesters labs. We have a campus technology grant that I was going to request a set of IR cameras to use in the oceanography lab. I was bummed to see it not working as clearly as the dye, however. I am sure you are right about the salt water cooling and therefore sinking. I am now trying to think about if we should do this or not. I think that maybe both ways would work well. First the dye..then the cameras. This would allow them to think about that issue of cooling salt water and therefore circulation within the bottom layer with the stratification still occurring. The fact that the surface layer warms with time can be seen in the thermal images, and the discussion of where that energy goes would be an added bonus?
Anyway, these are just rambling thoughts I was having today that I thought I would share! Either way, thanks so much for your blog posts, they are great ideas and thoughts that I use for inspiration often.
Katie F. (11.2017)
I'll be teaching a module on teambuilding in a couple weeks, and I was wondering if you would mind if I use your cute Forming, Storming… sketches from a 2015 blog post? I like your sketches because they capture some of the complexities around the different stages, like how not everyone is happy when the team adjourns (and that could be for a number of reasons).
Stacy L. (10.2017)
There was a link to your concept map posts in the materials of a course I took recently at the University of Applied Sciences in Kiel!
U.R. (09.2017)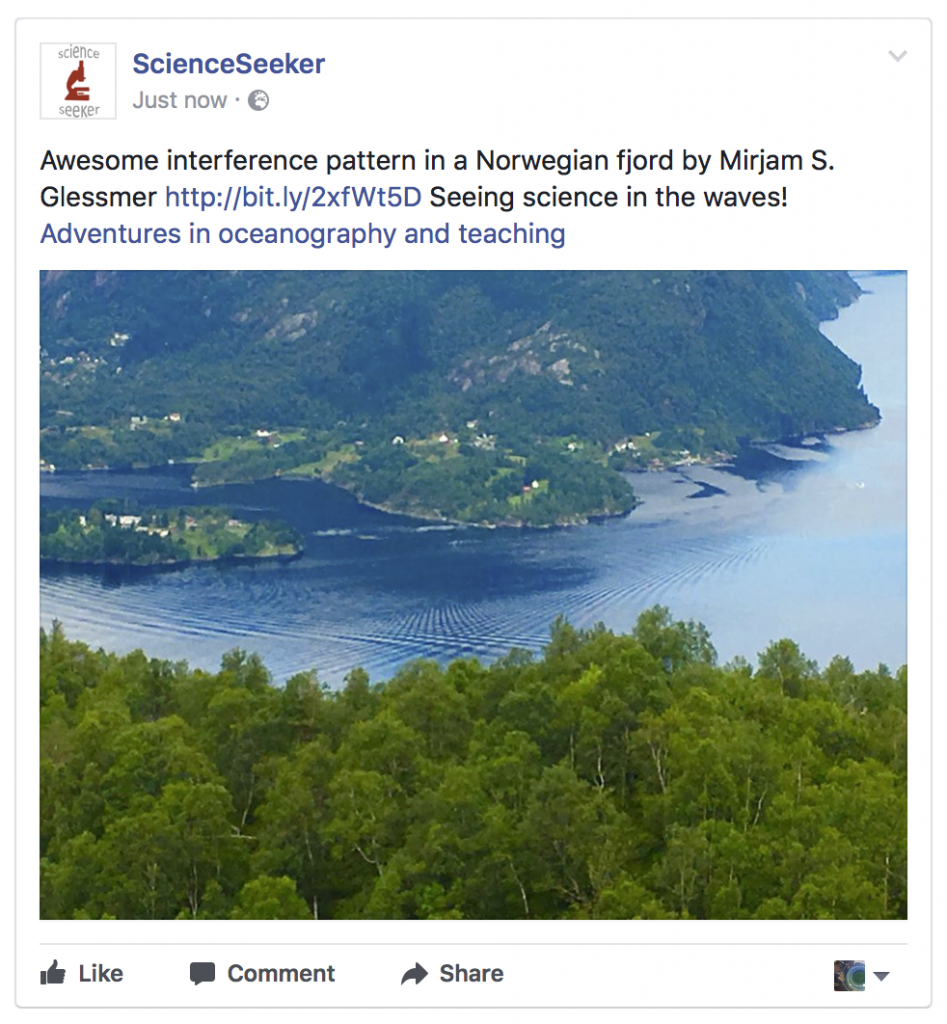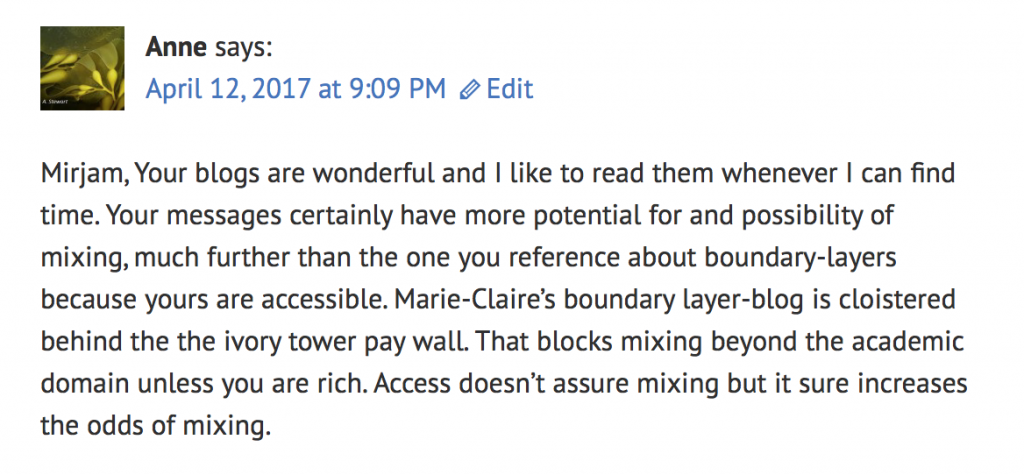 Always enjoy your blog and your curiosity. Thanks for sharing.
A. S. (11.2016)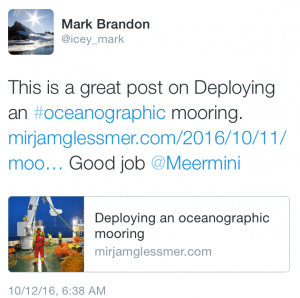 Well done and thanks Mirjam! Your blog is a "must read", and always full of thoughtful observations of the science of our planet. Thank you!
Mark (09.2016)
Ganz herzlichen Dank für die Goldgrube von guten Experimenten und Ideen auf Deiner Seite! Vieles von Deinen Experimenten habe ich inzwischen mit Kindern und Erwachsenen auf diversen Outreachveranstaltungen durchgefuehrt – immer mit Erfolg. So herzlichen Dank. – L.S. (08.2016)
Dear Mirjam,
Thank you very much for your ideas and papers about the teaching!
I like your blog. It helps me to give the teaching at the university creative. I would like to integrate more your ideas for my students.

I would like to work with you more and more together. Thank you very much! It is really the great pleasure for me!

Best regards,
Natalia

Dr. Natalia Konchakova (06.2016)
Always great to read your stuff!
M.S. (04.2016)
Thank you Mirjam, what a wonderful post!
J.P. (03.2016)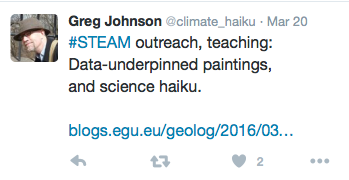 I love your blog Mirjam!
S.L. (01.2016)
I am teaching undergrads this semester for the first time and I have gotten so many ideas from your blog. Thank you for this!
C.H. (11.2015)
Awesome website. I did a great activity using it in class, the students really enjoyed it!
C.H. via Facebook (11.2015)
My chat with Mirjam was great! She's the perfect instructor to have for this course! I am excited to learn from her.
J.H. (11.2015)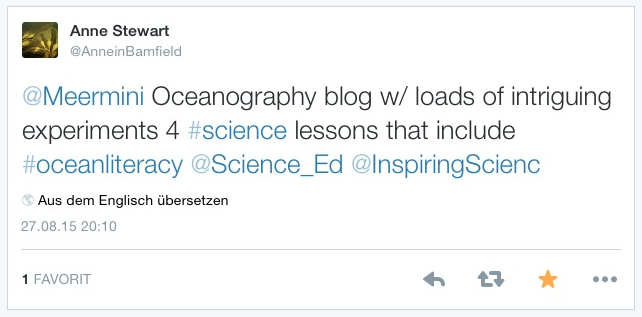 I did a PBL case leading to the experiment with the melting ice cubes four times already, always changing it a little bit and am very impressed how well it works with very different groups, ranging from humanists to physicists. They are discussing the underlying principles on varying levels, sometimes leaving me a little clueless – but it always helps to let them get on with it, thus emphasizing some important principles of PBL. Only drawback: I never manage to produce the colored ice cubes without coloring some wooden surface in my kitchen and my hands…
But it's totally worth it.
M.B. (08.2015)
Thanks a lot for your thoughts on the melting ice cubes! I used that simple but complex experiment to introduce research based learning and it worked even better than expected!!!
T.L. (08.2015)
I stumbled across your blog whilst reading your review on Ocean Drifters by Richard Kirby, and I have thoroughly enjoyed reading about some of your oceanography experiments. Thank you for sharing them! It's inspiring to see such a complex area of science broken down into bite-size chunks, in such a thought-provoking way. My favourite so far has been your series on melting ice cubes.
I.G. (06.2015)
I found Mirjam's Oceanography blog "Adventures in Oceanography and Teaching" an excellent resource. Even complicated items are explained in a practical and very illustrative way, e.g. the posting about vorticity. And as an added bonus, Mirjam discusses not only oceanography itself, but also general epistemological issues in research and the practice of teaching! I now wish Mirjam's blog had been available back when I studied – it would have made things much easier for me.
M.R. (06.2015)
Mirjam's blog  "Adventures in oceanography and teaching" is a fantastic resource both for me as oceanographer, but mostly for me as teacher and educator. Her enthusiasm for discovering oceanography and basic physics principles in daily life is inspiring, and so is her commitment to making teaching and education as useful and effective as possible for her (and other people's) students.
Without formal training in education science or best practices in lectures, labs, and other form of instruction, I find myself using Mirjam's blog almost as handbook to find advice e.g. on suitable experiments, best approaches to theoretical concepts, and most of all education science theory. The videos of various experiment are a great resource , especially in situation when I don't have a lab or suitable equipment available to do the experiments myself. Her regular posts on teaching and learning theory and methods are hugely valuable for people like me, who teach but are not connected to the science behind teaching. Her blog led me to discover basic teaching theory, learning concepts, and new approaches in how to instruct my students. I truly believe that the methods I learned about from Mirjam's blog have improved my courses, and I'm always looking forward to trying out new ideas inspired by her posts!
Dr. Angelika Renner (05.2015)
I'm a regular reader of Mirjam's blog.  I like its diversity: The posts cover everything from teaching techniques and the theory of learning and teaching to practical examples and the hidden science in everyday observations. In particular, I quite often turn to the blog when looking for ideas for experiments that may be used in the classroom. To me it is a great source of inspiration as well as information.
Dr. Kristin Richter (05.2015)
I very much enjoy reading Mirjam Glessmer's blog "adventures in oceanography and teaching". I have gotten many great ideas for hand-on experiments that I can do with my undergraduate oceanography students from there.
Prof. Dr. Joke F. Lübbecke (05.2015)
Mirjam Glessmer's blog "Adventures in oceanography and teaching" is full of photos, videos and descriptions of experiments that demonstrate various concepts in oceanography, from the basic to the rather complex (made to look simple, or at least pretty).
There are lots of helpful ideas for teaching that I'd love to try out some day in a classroom setting. Until then I'm enjoying the pics and videos for the fun of seeing what magic can be hidden in everyday objects – from flow around bridge pylons to dye dripped into a tank of water to toilet roll trickery…
The two things that most characterize the blog are its clarity and Mirjam's infectious enthusiasm about the topic of oceanography and science education at large.
Dr. Jenny Ullgren (05.2015)
We did a fairly simple version of this [the melting ice cube experiment] endlessly interesting example of how much you can learn about the physics of water with a couple of cups of water, some salt, ice and the ever cool, food colouring. I refer you here, to the queen of the melting ice cube and wonderful teacher Mirjam Glessmer of Germany. Mirjam has multiple variations on the theme of the melting ice-cube. Her amazing web-site is all about oceanography and teaching, brilliant, in my opinion. http://mirjamglessmer.com/
A.S. (03.2015)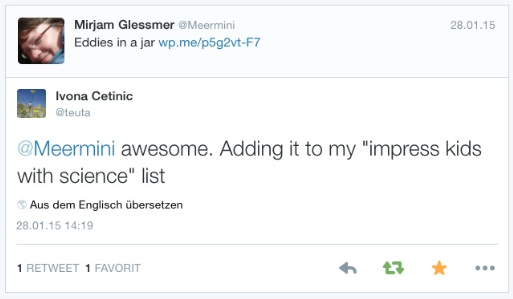 Hello! Very happy to surf your wonderful hands-on activities on oceanography, which are all wonderfully transformed for students.
I'll recommend the website to my friends…
R.L. (12.2014)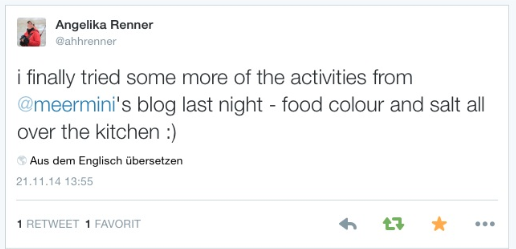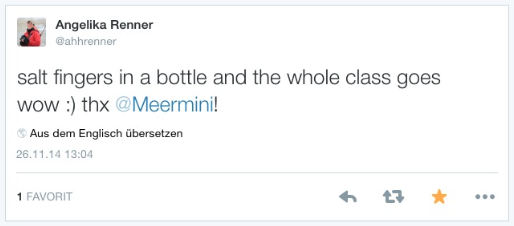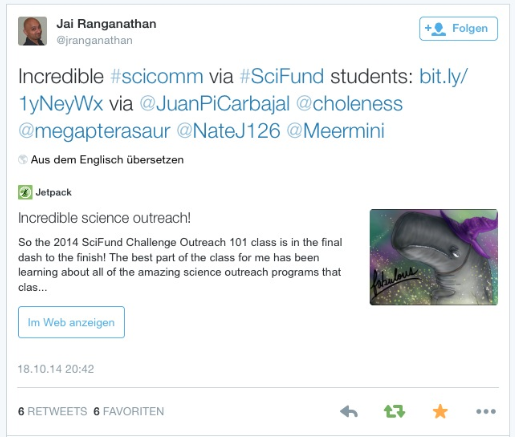 Talking about teaching science. Mirjam Glessmer, an oceanographer at the Hamburg University of Technology, runs a blog: Adventures in oceanography and teaching. How do we teach oceanography – and science more generally – in an interesting way? That's what Mirjam deals with in her blog, which is crammed full of tips and techniques for those looking for ways to engage their students.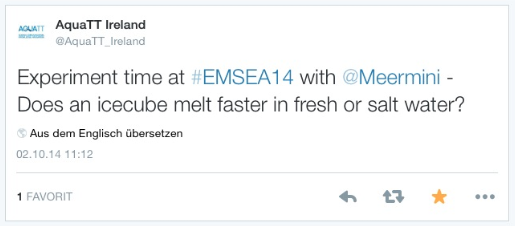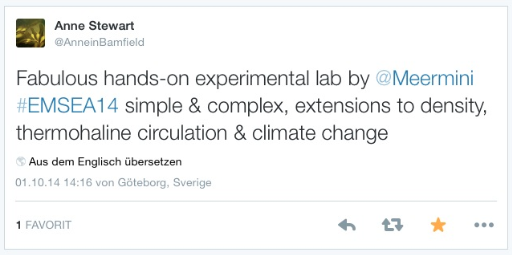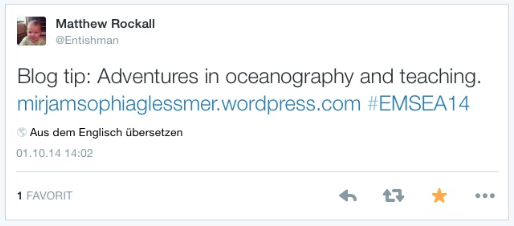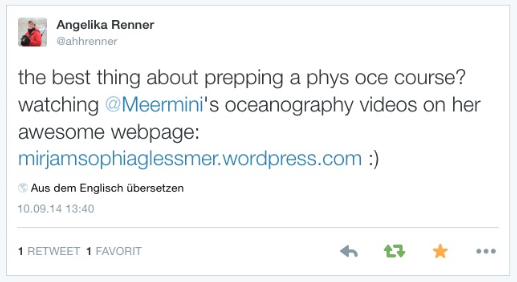 Love this my colleague and I were laughing at how your voice comes through..we like you work with adults..and kids. You're approach is so much like ours…and yes we do do photo shoots and trial runs in our homes. …  It is very exciting work actually.  We are literally building the plane as we are flying.
Looking forward to connecting.
S.H. (08.2014)
I've just looked through your blog postings… you are simply impressive! So now I'm all inspired to start writing up my own for the cruise…
E.D. (05.2014)
Wow! I just got lost in your blog here! This blog was kinda awesome for ideas!
E.S. (04.2014)
It sounds like your job was made for you. The more I read your blog, the clearer it becomes. Those are really awesome things you do. :-) I could hardly tear myself away from the blog! :-)
K.H. (03.2014)
Wow, your blog is so awesome! I want to play with corn starch right now!
I.D. (01.2014)
I love your blog! I had never heard of cartesian divers before (hard to believe but true!). I'll definitely play with them soon!
K.R. (01.2014)
I stalk your blog for ideas and inspiration
J.D. (01.2014)
I love it! I really wish more of my lecturers at the university thought and did like you do.
S.S. (08.2013)
Awesome blog, please keep up the great work! Your ideas are amazing and I love that you share your collection with the world.
T.M. via Facebook (08.2013)
I am going to advocate that Mirjam's site is totally awesome. It's a great resource for both teaching and outreach.
K.M. (09.2013)
Awesome experiments – your students are lucky! Hope I'll be able to use some of it, too, when I start teaching.
J.L. (09.2013)
Thank you you are awesome! I'm not as creative as you! :-) I aspire to be as creative as you one day! Oh boy, fire!
J.F. via Facebook (09.2013)
I want to be your student, too!
A.D. (08.2013)
You do a super job!
E.D. via Facebook (08.2013)
This is so cool! I wished I could attend your class!
K.R. via Facebook (08.2013)
Just awesome! When will your collection of hands on experiments be published as a book? Or less old-fashioned: on your own youtube channel?
T.M. via Facebook (08.2013)
The author is not responsible for content of linked external webpages. Blog posts are snapshots of a specific time, and content of posts might therefore not be valid any more as my thinking evolves or linked resources expire.