I'm actually at a loss for words. Amazing? Spectacular? So much fun? All of that!
Today was the first time Torge and I tried our four DIYnamics-inspired rotating tables in teaching. (Remember? We want to use 4 rotating tables simultaneously so students can work in small groups rather than watching us present experiments, and also so we could quickly see how slightly different conditions might lead to different results. Having 4 tanks running at the same time cuts down on a lot of spin-up wait time! And we wanted affordable rotating tables so a) we could afford them and b) students would really just be able to play without them, or us, being afraid that they might break something). And it went even better than we had hoped, and we were already pretty convinced that it would be awesome!
It all started out, even before class started, with one of the students asking if it was me who had done the recent takeover of Kiel University's Instagram account with the awesome tank experiments in Bergen. Yep, that was me, and it was great that she remembered she had seen the experiments and even recognized me! Made me very happy. If I had needed convincing that social media is awesome, here it was!
But then the students started playing, and they got really into it. We started out with just tanks filled with water on the Lazy Susans, and the students moved them by hand to get a feel for how water behaves under rotation. We looked at deformation of surfaces, how confetti as tracers behaved on the surface and on the bottom, all the good stuff. Already with such simple experiments there is so much physics to discuss!
And then we moved on to turbulence in a non-rotating and rotating system. Look at the cool vortex rings you can make with food coloring :-)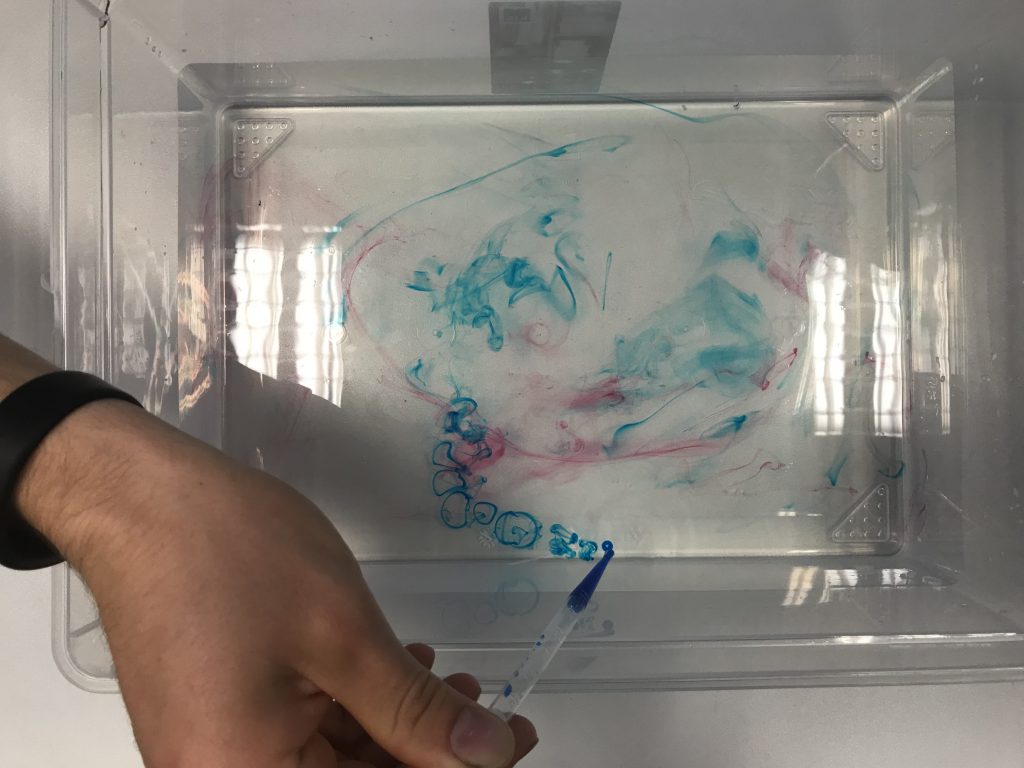 And then we moved on to turbulence in the rotating system. Our final tanks haven't arrived yet, so we made do with whatever we had at hand (see the green bowl as tank below…). Students also started improvising to include a topography and other modifications that we hadn't planned for. This is so great if students are so keen to figure things out that they take the initiative to make it happen themselves!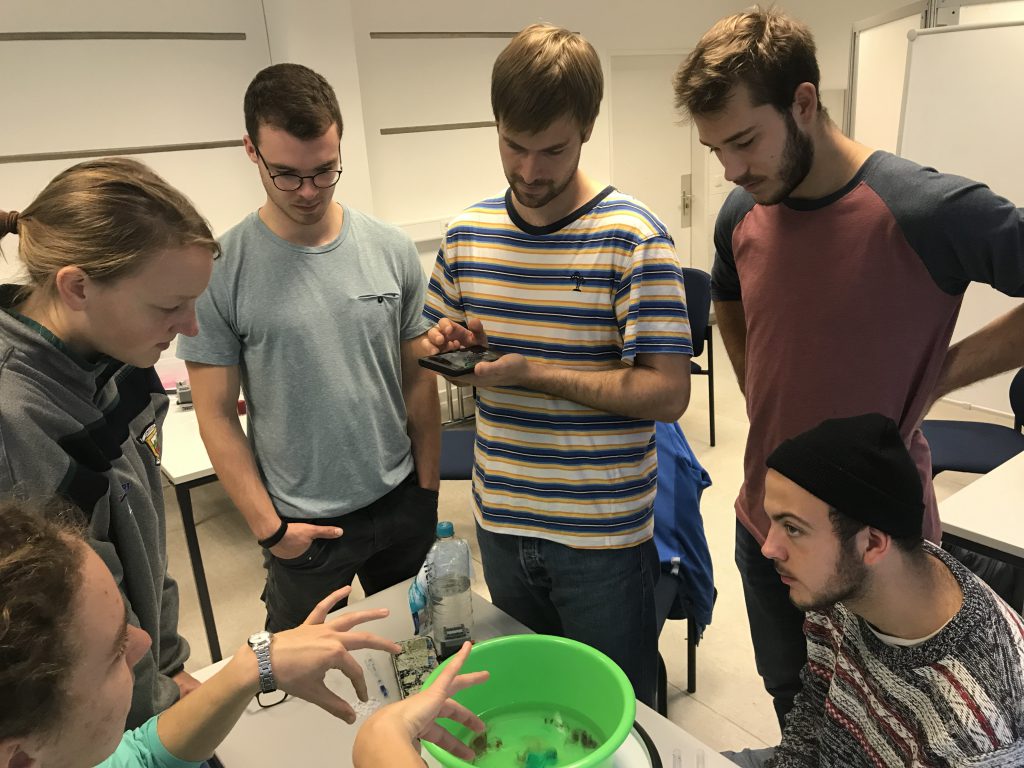 Judging from what I could observe, students were really enjoying themselves and got into deep discussions, trying to connect their observations to the theory they had learned. Additionally, there were lots of "oh wow!"s and "coooool"s everywhere. And I overheard this one exchange between two students: "careful, don't drop the phone into the tank!" "oh, it's ok, it's waterproof" "I don't care about the phone, I don't want you to mess up the experiment!" :-D
Btw, note below the small Lego motor that drives the Lazy Susan. That's really the whole setup. Speaking of affordable and easy. And portable. And all-around awesome!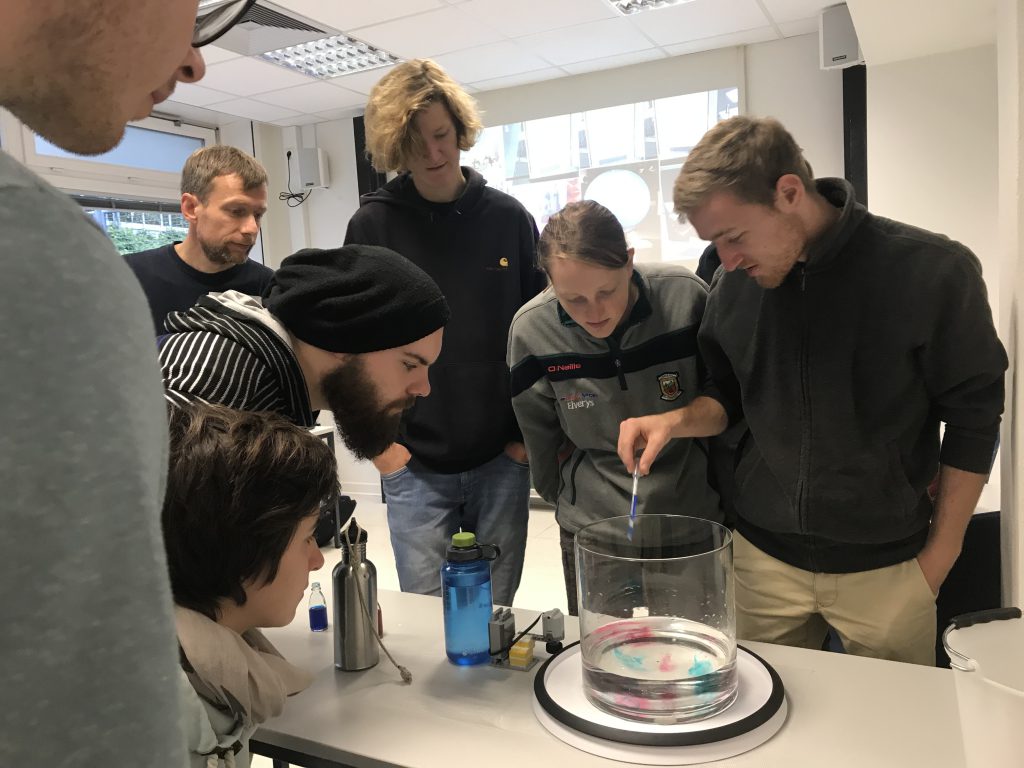 And it was great fun for Torge and me, too, to observe what the students were up to, and to discuss with them. There were already several curious questions as to what experiments we are planning to do throughout the course. The next sessions, Torge will connect the experiments we did today to theory, and start on the theory we need for the next set of experiments we are planning to run, but I can't wait to continue working with the tank experiments with such a motivated group of students! :-)