I've been fascinated by gooselings recently, mainly because they are super cute. But I can tell you about what makes wave watching special when the waves are made by geese — it is an extra challenging type of wave watching! (Check out this post for a more general — and likely much more useful — guide to wave watching)
I dug through my phone (all these pictures are from this year, but they aren't posted chronologically as you'll see from the size of the gooselings) and found quite a collection. This is for you, Yasmin and Maike!
Let's start out with a couple of pics that work well for wave watching purposes, but that already show hints of the challenges discussed below.
So why is it so difficult to get good pictures of geese-made waves?
Challenge 1: A lot of time there aren't even any waves to watch
1A: Apparently, geese like to go on walks to eat grass and other stuff growing on land as least as much as being on the water. Weird, right?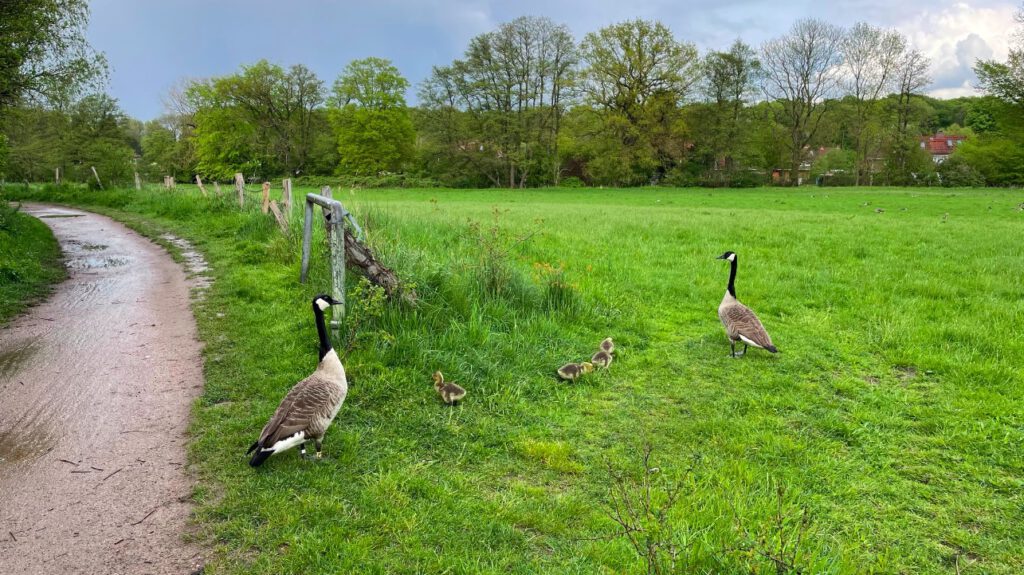 Sometimes they at least get close to the water, but getting close does not guarantee that they will actually go in!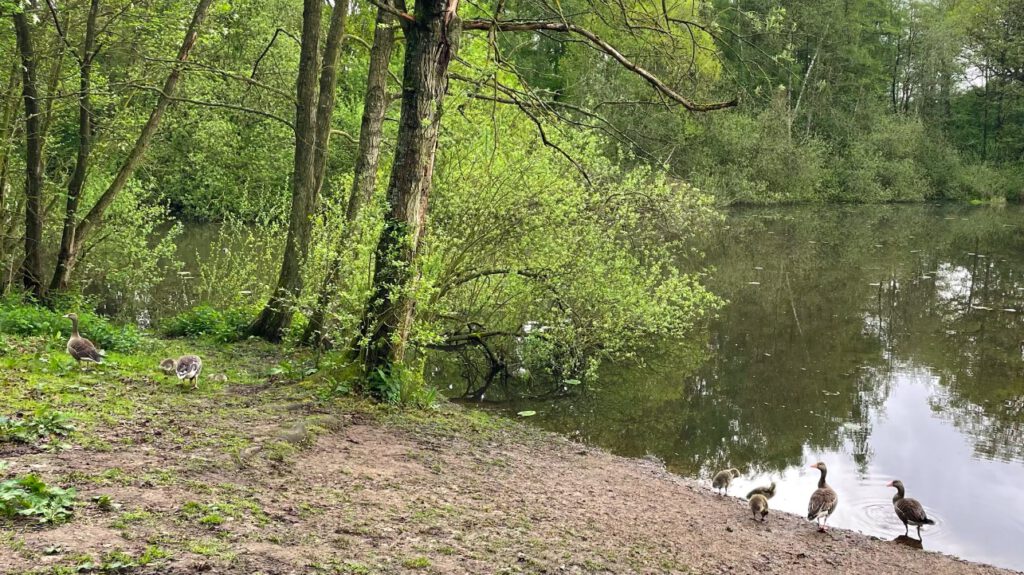 1B: Gooselings seem to need a lot of rest!
Below you see two families, one where the parents are balancing on one leg each and then the babies huddled together on that tree trunk in the water, and then the second one on land, babies again huddled together. I see them like that a lot! And at pretty much all times of day.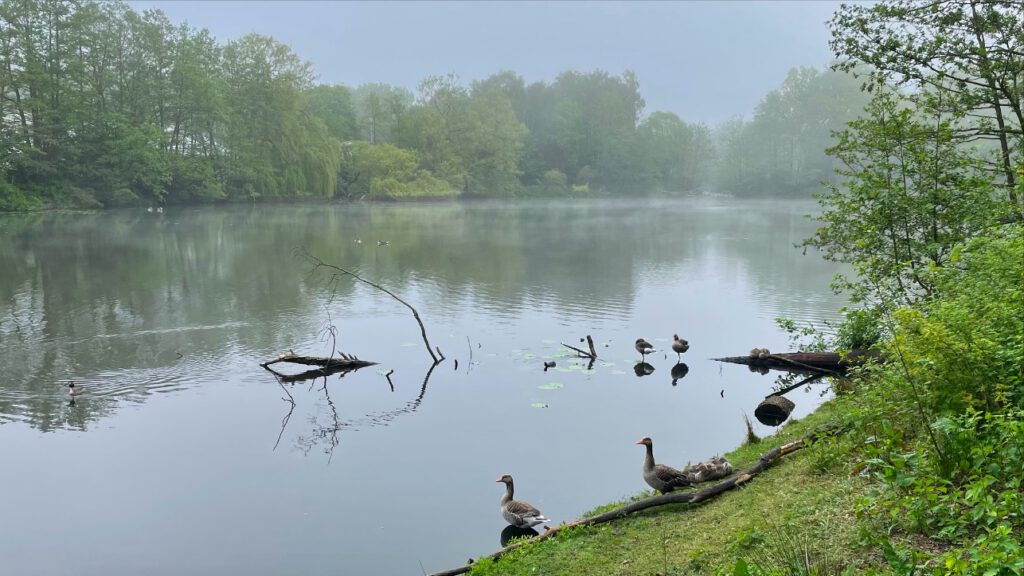 Sometimes the parents at least attempt to make some waves while the kids keep relaxing on shore…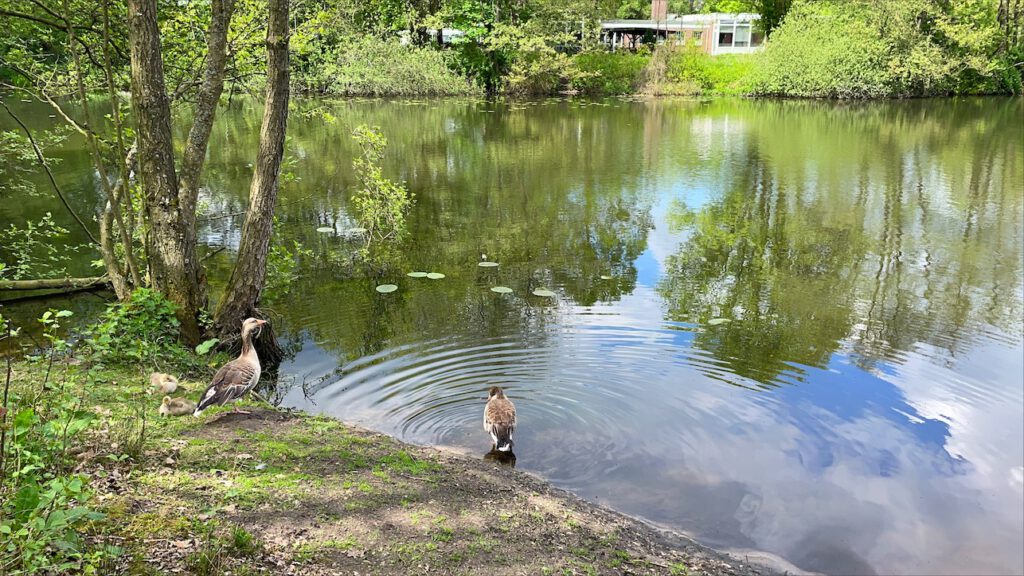 And here, at least one of the two families (the one where the parents don't tend to balance on one leg each) is moving in the water. But they are displaying problem challenge no 2.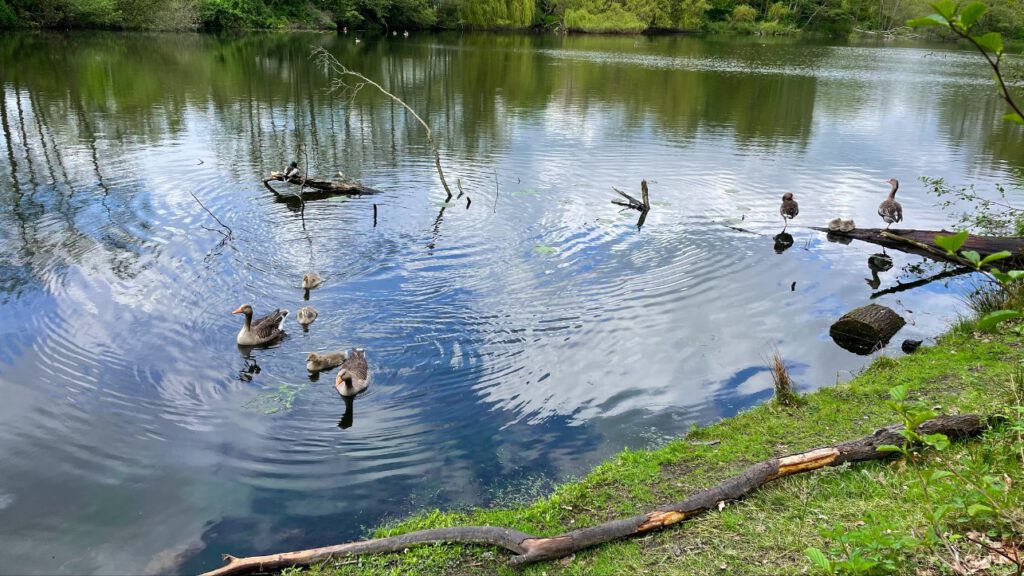 Challenge 2: Sub-critical velocity
Geese often just swim too slowly for nice wakes to form. They would need a super-critical speed, i.e. they need to swim faster than waves can spread, for a 2D Mach cone to develop (which isn't really all that fast, ducks do that all the time!).
Challenge 3: Erratic behaviour
In contrast to ducks, geese don't just swim straight forward at a reasonable speed. They constantly change speed and direction!
Challenge 4: Too far away
Maybe that's not really on the geese, but often when they ARE making nice waves, they are just out of reach of my phone's camera.
Anyway, it's fun to try to get good wave watching pics when the animals are behaving so unpredictably! With weirs or ships and even ducks it's a lot easier, but then maybe a new challenge every now and then doesn't hurt either :)