DE | EN
Ich habe das Buch "Komm, wir gucken Wasser! Beim Spaziergang Wellen und Strömungen entdecken" (auf Deutsch und Englisch verfügbar!) für mein Patenkind Pauline geschrieben. Pauline war damals noch keine sechs Monate alt, aber ich wollte, dass ihre Eltern lernen, genau das zu sehen, was ich sehe, wenn ich aufs Wasser gucke. Dann sollten sie außerdem noch so begeistert davon sein wie ich, und all das Pauline beibringen. Mal gucken, ob es klappt! :-)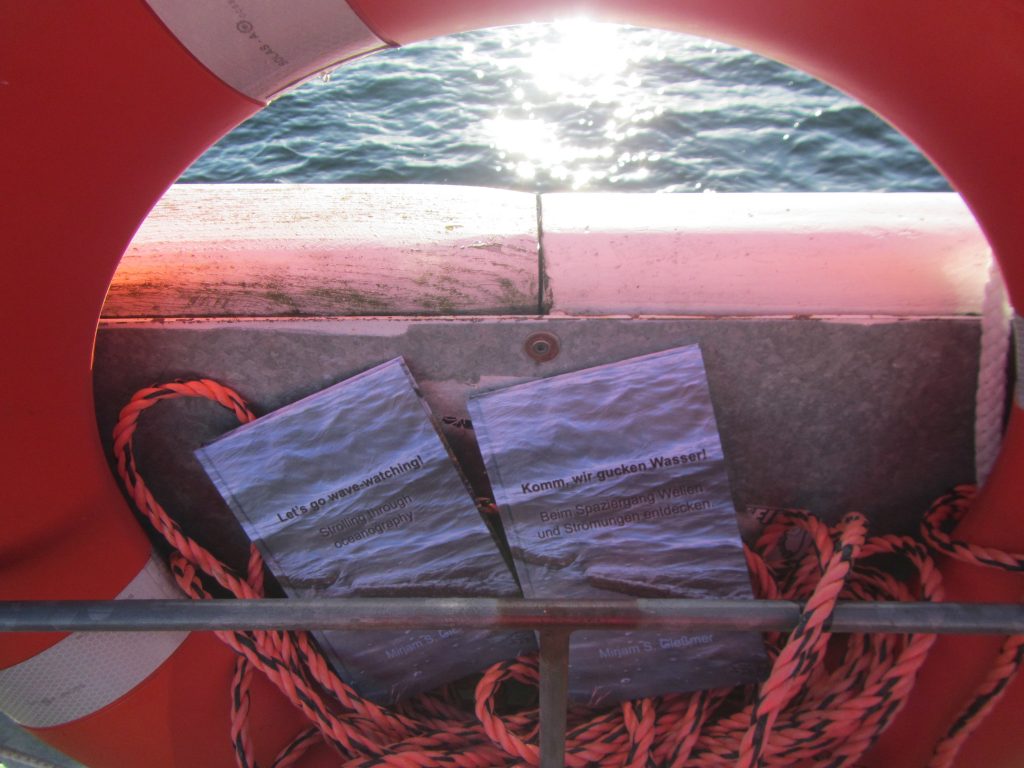 Über das Buch:
Willst Du bei jedem Spaziergang am Wasser – ob vorbei an Pfützen, Bächen, Flüssen, Seen oder dem Meer – überall Entdeckungen machen, die Dir etwas über das Wasser verraten? Das wird so sein, wenn Du dieses Buch gelesen hast! Steht das Wasser oder fließt es? Werden die Wellen von Schiffen, Tieren oder dem Wind gemacht? Hat der Grund oder das Ufer des Gewässers einen Einfluss auf die Wellen oder Strömung? Ob Du allein spazieren gehst, mit Kindern oder mit Erwachsenen, egal! Bald wirst Du überall spannende Phänomene entdecken und verstehen. Und dann wirst auch Du mit einem begeisterten "Komm, wir gucken Wasser!" Menschen in den Bann des Wassers ziehen wollen.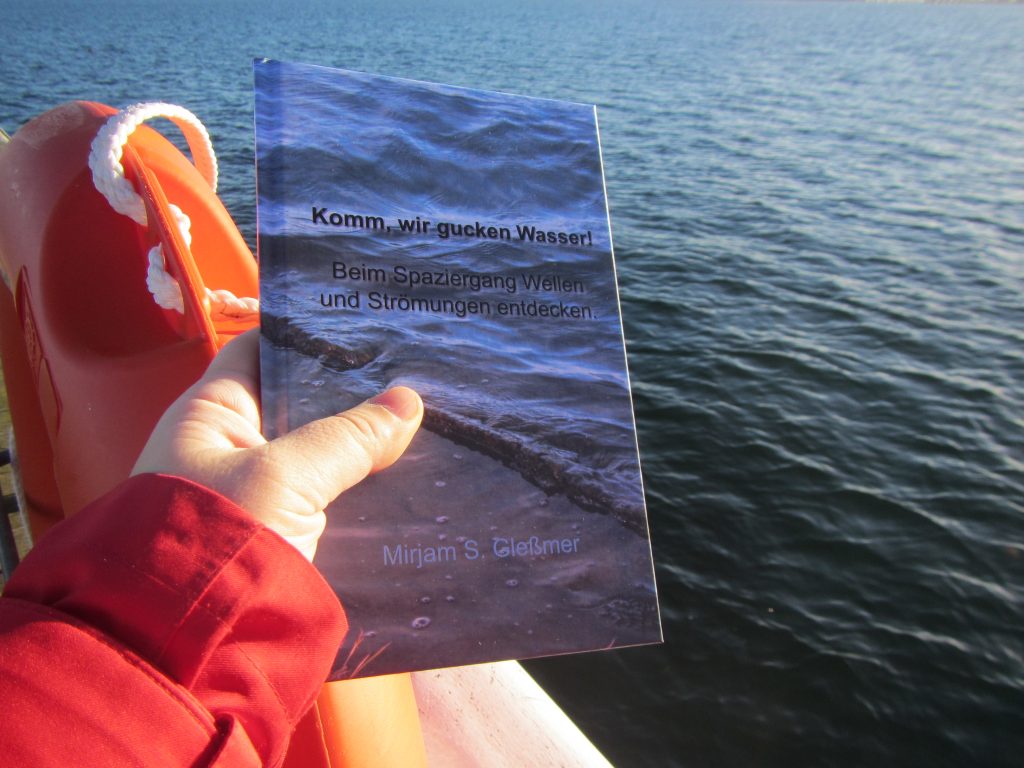 Wovon handelt das Buch?
Im Buch zeige ich Fotos von Wellen und Strömungen, und dann zeichne ich ein, was genau ich dort sehe. Wenn meine Blogposts "reading the water" gefallen, dann auch dieses Buch! Die Erklärungen sind allerdings an Kinder gerichtet, also erwarte bitte kein Ozeanographie-Lehrbuch, denn das ist es mit Sicherheit nicht!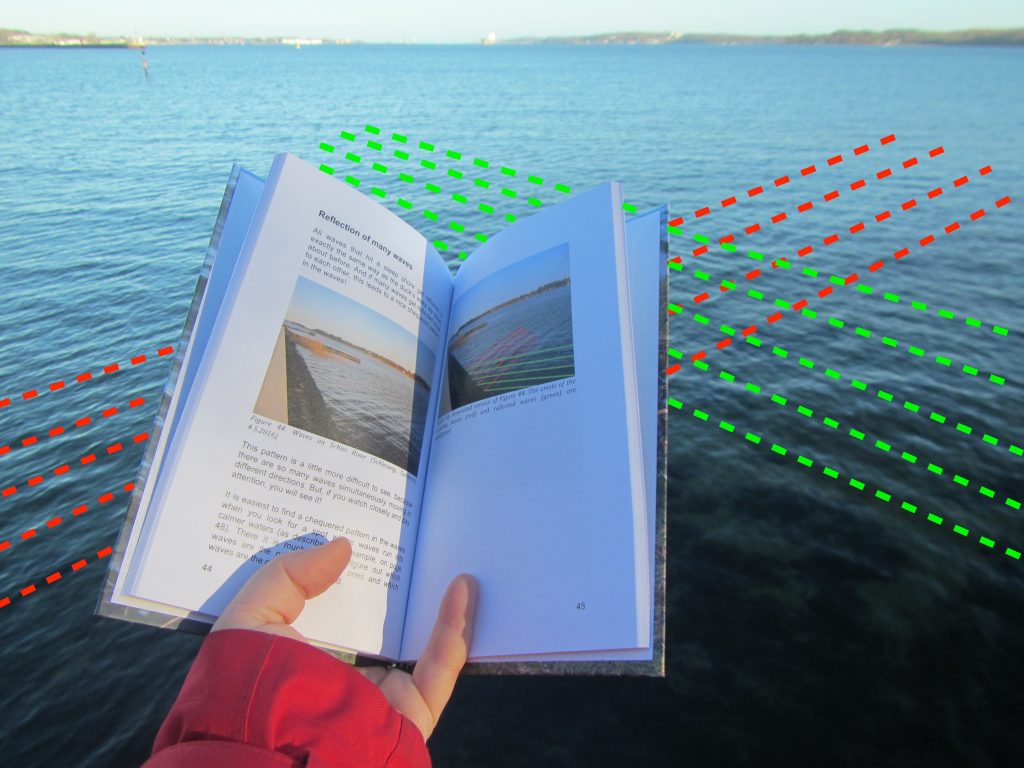 Wie kann ich auch ein Buch bekommen?
Direkt vom Verlag kaufen oder auf Amazon.de, oder überall, wo es Bücher gibt, mit der ISBN-13: 9783743100855.
Was sagen die Leser über das Buch?

Sara Siebert (07.2018)
Great!
It is like a "do it yourself book", because you can nothing do against it, you have to watch waves! Especially the part about waves and streams was fascinating for me!
As a biologist, after reading your book, I am not only looking for seabirds and whales, also for waves!
Thank you Mirjam!

Nena Weiler (07.2018)
Jeg en gammel seiler /matros har oppdaget en bok som beskriver bølger og strømmer i vannet på en genial måte. Boken er en barnebok som fikk meg til å se på havet fra en annen vinkel og kan virkelig anbefales selv for oss voksne

Jeg har boken i sengen min å jeg bruker og lese i den fra tid til annen

– I'm an old sailor and found a book that describes waves and currents in the water in a clever way. The book is a children's book but it lead me to look at the sea from a new perspective and I really recommend it even for us grown-ups! :-) I have the book in my bed and read in it every now and then :-)

A sailor on a Norwegian research vessel (04.2017)
If you were not fascinated by the ocean before reading this book, you surely will be after. A magnificent piece of work!

Morven Muilwijk, PhD student in physical oceanography (03.2017)
This book is a wonderful piece of infectious geekery! For me, it's brought back a level of fascination with the sea surface (or any water surface) that I haven't felt since I first started studying oceanography, almost two decades ago. I also particularly like the small, neat format that means you can actually take it with you on a stroll. We want to get some copies for our visitors' centre. On this small island, 'wave tourism' is something that could really take off (literally, in the worst case – today, for example, we have gale force winds)…

Reading the book brings me back to the excitement of the first oceanography courses I took as an undergrad. It reminds me of one of my course mates who went for a romantic weekend with her boyfriend. Walking hand-in-hand by the seaside in the glorious sunset, she looked out over the water and said: "look at those refraction patterns"!

Dr. Jenny Ullgren, physical oceanographer (03.2017)
This book takes the boring out of the Sunday stroll Ein Sachbuch, wie man es sich schon immer gewünscht hat: Kurzweilig, informativ und verständlich geschrieben. Mit tollen Fotos aus aller Welt zur Verdeutlichung von Phänomenen, die der Leser dann in jeder Pfütze und sogar im eigenen Waschbecken nachvollziehen kann. Große und Kleine sind begeistert!
– Paulines Mutter :-) (12.2016)
Die Beispiele in den Bildern sind gut erklärt, so dass man sie gut verstehen kann, auch wenn man darüber vorher noch nichts wusste."
-eine Ingenieursfreundin (11.2016)
Mama, können wir das Buch echt behalten? WIE COOL!
-der 13 Jahre alte Sohn einer Freundin (11.2016)
Mirjams Buch hat mich aufgeweckt und meine Augen wieder geöffnet für die Magie (die Physik!) von Wellen und Wasser und all dem, das ich irgendwann mal gelernt hatte.
– eine Fluidmechanikerin-Freundin von mir (11.2016)
Du hast mich aufgeweckt und mir so viele Sachen gezeigt, die ich eigentlich schon wusste, aber die ich nie bewusst wahrgenommen habe ;)
– eine Fluidmechanikerin-Freundin von mir (11.2016)
Seitdem Du mir Dein Buch gezeigt hast, sehe ich all diese Muster in den Wellen die ich vorher noch nie wahrgenommen habe!
– eine frühere Studentin von mir, die jetzt in Physikalischer Ozeanographie promoviert (9.2016)
Und was sagst Du?
Ich freu mich über Kommentare unten! :-)