Dr. Mirjam Sophia Gleßmer, MHEd
Research background in physical oceanography and extensive practical experience in formal and informal education. Strong customer focus, goal-orientation, and commitment to continuous improvement. Passion and dedication for science communication and for creating stimulating learning environments in ocean and climate sciences.
Find my CV.pdf (including an up-to-date list of publications) here. Or enjoy my attempt at water colors below.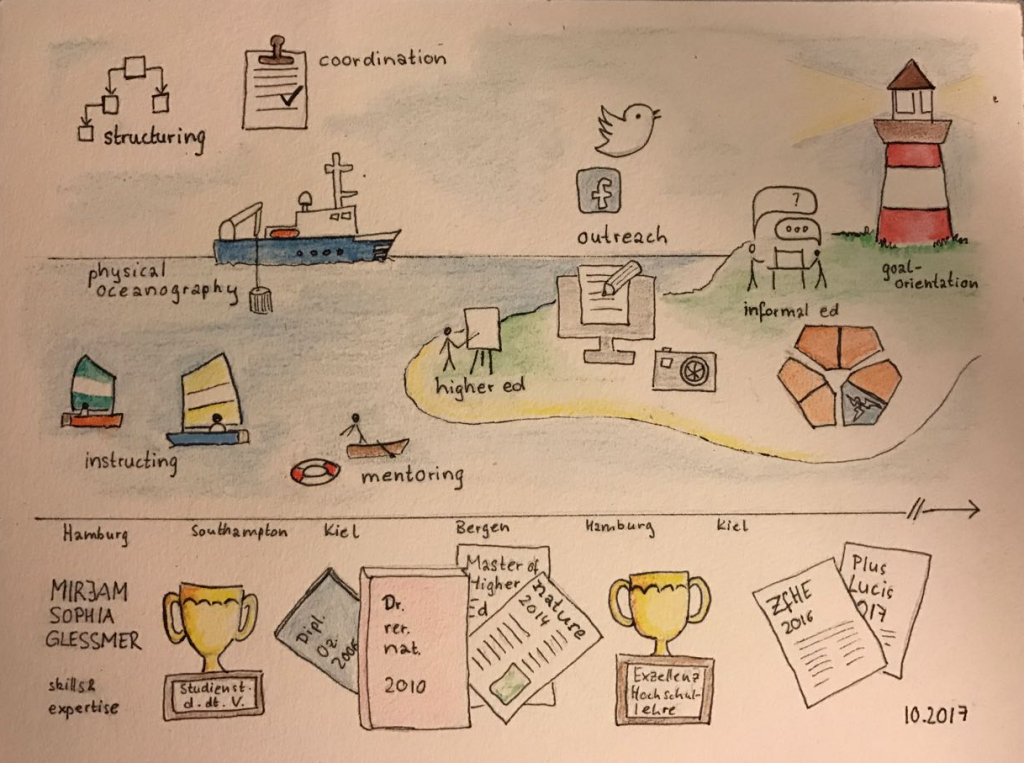 Education
Doctor, Physical Oceanography (2007–2010)
Leibniz Institute of Marine Sciences (IFM-GEOMAR, now: Helmholtz Centre for Ocean Research Kiel (GEOMAR)) at Kiel University, Germany
Master of Higher Education (2006–2011)
Center for Higher and Further Education (ZHW, now: Hamburg Center for University Teaching and Learning (HUL)), University of Hamburg, Germany
Diplom, Physical Oceanography (2001–2006)
University of Hamburg, and Hamburg University of Technology, Germany
Professional experience
Researcher in Informal Learning and Science Communication (since 2016)
Leibniz Institute for Science and Mathematics Education at Kiel University, Germany
Coordinator of Teaching Innovation (Mechanical Engineering & Naval Architecture) (2013–2016)
Center for Teaching and Learning, Hamburg University of Technology, Germany
Postdoctoral Fellow in Physical Oceanography (2011–2013)
Geophysical Institute (in association with the Bjerknes Centre for Climate Research), University of Bergen, Norway
Researcher in Physical Oceanography (2006–2010)
Leibniz Institute of Marine Sciences (IFM-GEOMAR, now: Helmholtz Centre for Ocean Research Kiel (GEOMAR)) at Kiel University, Germany
Research Project in Physical Oceanography (2005–2006)
Southampton Oceanography Centre (now: National Oceanography Centre), UK
Awards and scholarships
11.2015 – 03.2018 Tandem Fellowship of the Stifterverband für die Deutsche Wissenschaft (together with Christian Seifert)
Hamburg University of Technology
07.2016 Best poster award ISEE, Sheffield, UK
10.2010 Physical Oceanography Dissertation Symposium VI
Honolulu, USA
10.2007 – 11.2007 German Academic Exchange Service (DAAD)
Cargese, France
10.2003 – 07.2006 German National Academic Foundation
University of Hamburg, Hamburg, Germany, and National Oceanography Centre, Southampton, UK
08.2004 German National Academic Foundation
Hilderstone College, Broadstairs, UK
Additional training
06.2010 Alpine Summer School "buoyancy driven flows"
Fundamental processes in geophysical fluid dynamics in the climate system
Valsavaranche, Italy
10.2007 – 11.2007 3rd SOLAS Summer School
Surface ocean lower atmosphere study
Cargese, France
09.2007 CKO Summer School
Physical Oceanography
Les Diablerets, Switzerland
09.2006 – 10.2006 ESA
Advanced training course on ocean remote sensing – Methods, tools, and applications
Hamburg, Germany
06.2006 CarboOcean summer school
Modelling the marine carbon cycle from small to global scale
Bergen, Norway
Research cruises
08.2016 – 09.2016 RV Håkon Mosby, HM2016618
Longyearbyen, Svalbard – Bergen, Norway, Greenland and Iceland Sea
Blog posts here
11.2013 RV Håkon Mosby, Student Cruise
Bergen, Lokksund
02.2013 RV Håkon Mosby, Student Cruise
Bergen, Hardangerfjorden, Lokksund
10.2012 F/F G.O. Sars, Student Cruise
Bergen, Hedlafjorden
(Descriptive cruise report)
07.2012 – 08.2012 RRS James Clark Ross (JR267) – Greenland's Frozen Coast
Reykjavik, Iceland – Svalbard, Norway; East Greenland Current
Cruise webpage "Greenland's frozen coast"
02.2012 RV Håkon Mosby, Student Cruise
Bergen, Hardangerfjord
Student cruise 2012
08.2011 – 09.2011 RV Knorr 203, To the Denmark Strait – Searching for the Origins of a Mysterious Current
Reykjavik, Denmark Strait
Cruise webpage "to the Denmark Strait"
11.2008 – 12.2008 RRS James Cook 29, SOFINE: Southern Ocean FINEstructure
Cape Town – Cape Town, Kerguelen Plateau
Cruise webpage "SOFINE"
02.2008 NO L'Atalante (ATA3)
Dakar-Mindelo, Coastal Upwelling off Mauritania
09.2004 – 10.2004 RV Lance (2004/15)
Tromsø- Tromsø, East Greenland Current
09.2003 – 10.2003 RV Lance (2003/13)
Tromsø- Tromsø, East Greenland Current
09.2002 FS Poseidon
Reykjavik-Thorshavn, Denmark Strait