I recently got a new comment on my blog post on foam stripes parallel to the coast, and since you guys hardly ever comment on my blog (I like getting your emails! Really! But why not comment on here? ;-)) it spiked my interest enough to look out for more foam stripes. So about a month ago, I saw this in Kiel: Yes! A foam stripe parallel to the coast!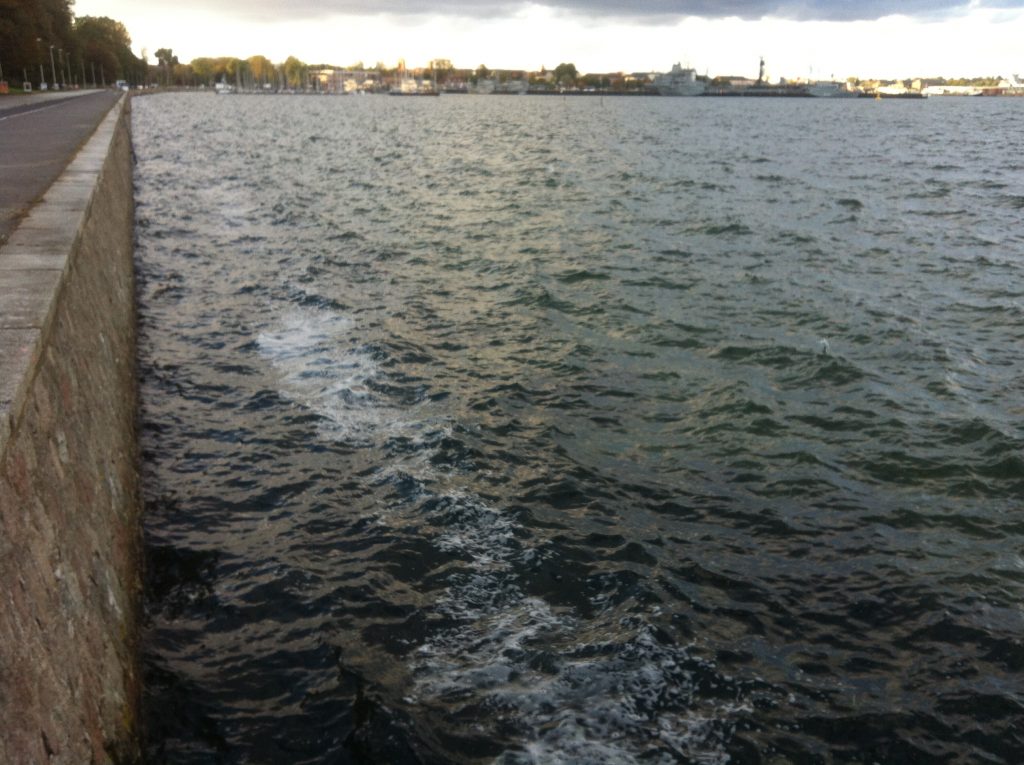 I'm actually pretty sure that they are there most of the time, at least when there is some wave action going on, but I just never noticed since they are so close to the sea wall and it's easy to just look out over the fjord and never look down.
But again, as much as I tried, I could not see how the position of the stripe related to the wave field.
But now that I was intrigued, I went back the next morning to take a look. A lot less wind than the night before, and shorter waves. And what do we see?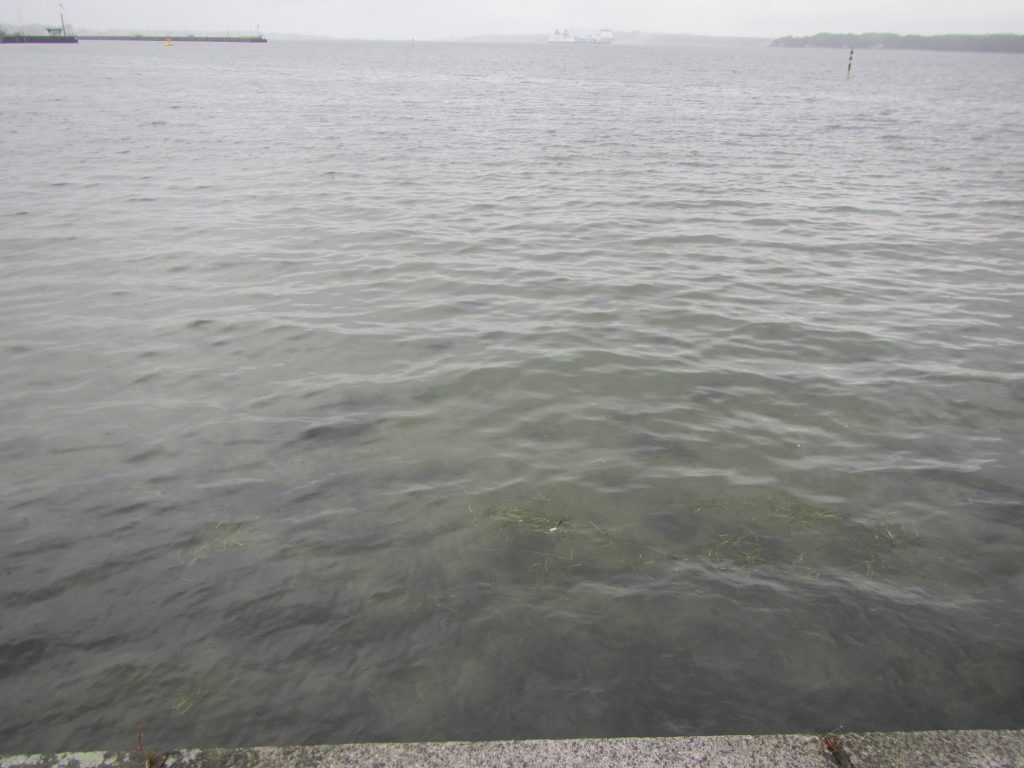 At first glance, there is no foam stripe, but instead there is a stripe where floating sea weed accumulated (indication of a convergence zone? Can you see it? Sorry about the bad picture).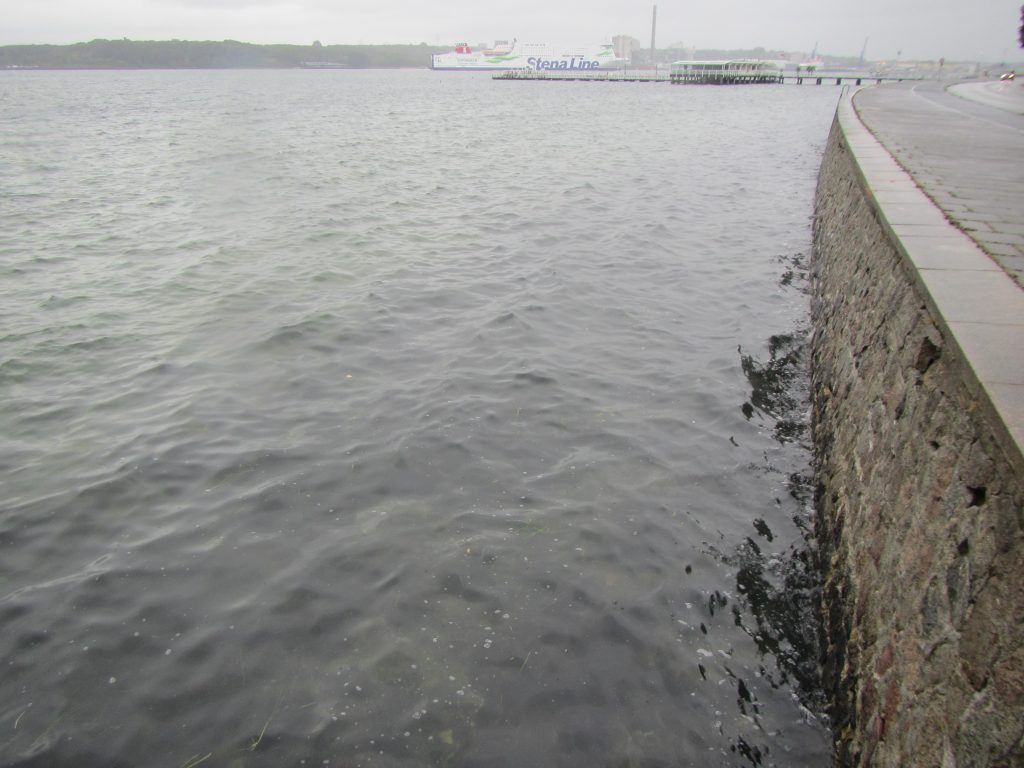 But then in other spots, there is a little bit of foam, too, where the sea weed accumulated. And this time I could actually see where it came from: That is the area where most of the wave breaking happens when reflected waves meet incoming waves. Mind, though, I could not observe that on previous occasions!
Plus, waves break when they meet the sea wall, and that creates more foam that sits between the foam stripe and the sea wall.
Since at that point I was really intrigued, I went back around lunch time the same day. And what do we see?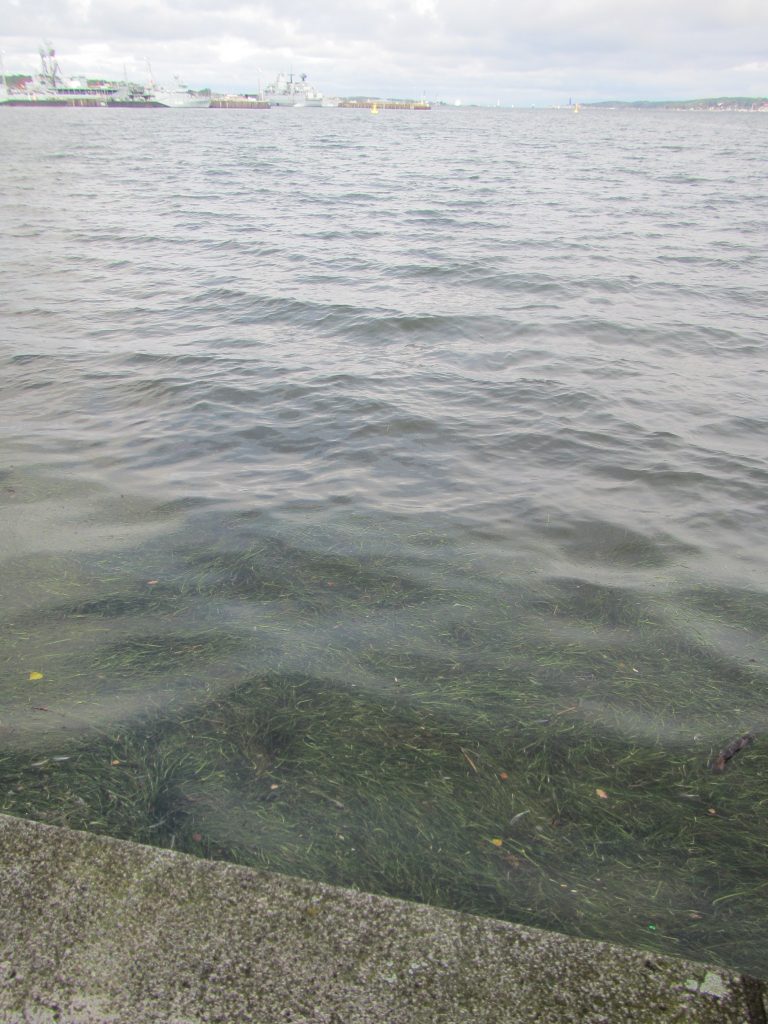 Foam stripes are gone, but there is a lot more sea weed now! And all confined to a narrow stripe along the coast.
Actually,  if we look really carefully, we can see that there still is a foam stripe parallel to the coast, but very very close to the sea wall now.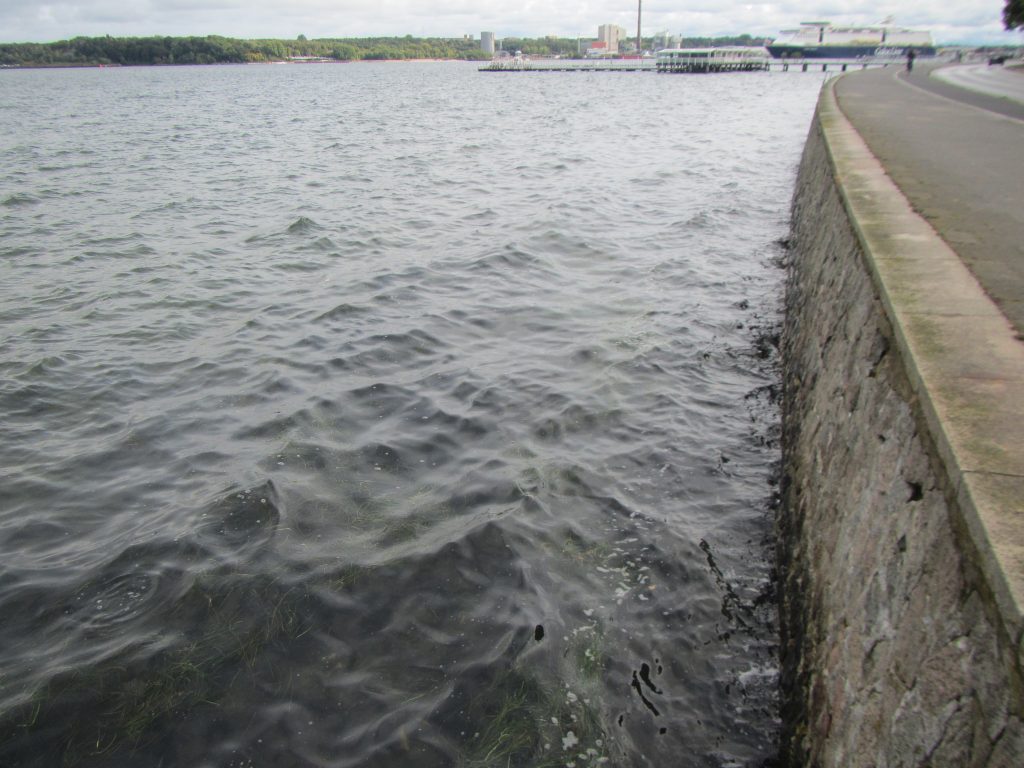 And looking down the other direction, there are even two stripes with sea weed, and only the one closer to the coast also has foam on it. It gets weirder and weirder :-)
Anyway. I guess what we need for foam stripes is enough choppy wave action that waves break (waves alone are not enough as you can see in this post on standing waves which happens to talk about the exact same spot), because if waves weren't breaking, where would the foam come from? Although sea weed could still accumulate, I guess?
I will investigate further. In the meanwhile, does anyone have any more ideas of what is going on? Do you now see those foam stripes everywhere, too? :-)
P.S.: Kiel peeps, btw, you probably know exactly when I took those pictures, since there is the Sweden ferry coming in on one and then the Norway ferry going out on the other… :-)