Participation in shared production of artefacts is a great way to learn in a community, because putting things on paper (or, as we will see later, on online slides or physical whiteboards) requires a clearer articulation of the topic of discussion, and a level of commitment to a shared meaning (Wenger, 1998). We give two examples of methods we like to use, and then a trick to break up roles in student groups so it is not always the same person taking notes or reporting back to the group.
Physical whiteboards
One of Kjersti's favourite teaching techniques is the use of whiteboards, especially in GEOF105, a second-year course introduction to oceanography and meteorology (see many examples of great student artefacts on her Twitter; and multiple-choice questions to support discussions as her other favourite method here).
For in-person teaching with group discussions and exercises, the groups can draw or write their main results on portables whiteboards (best trick: Picture frames with just white paper behind the glass! Very cheap, very effective. Great idea, Elin!). When the students are asked to document their results on a whiteboard, they need to be concrete and agree on the level of details they provide.
In our GEOF105 course in undergraduate oceanography, we use many sketching exercises. We find that the sketching exercises provide many positive aspects:
Students like sketching. They often decorate the sketches with smiling suns or add wildlife to the sketches, contributing to a relaxed atmosphere and a positive learning environment.

Many questions arise when the students start sketching, because suddenly having a vague idea is not enough any more. First, they discuss, explain, and check if their ideas make sense. Then, they need to combine all the ideas into one concrete sketch.

The sketching activates more students in the discussions. Some students take responsible for sketching, some provide input, and some ask questions.
Below, you see an example of one group's work on coastal up- and downwelling on the Northern vs Southern hemisphere (note the use of appropriate animals to illustrate the hemisphere ;-))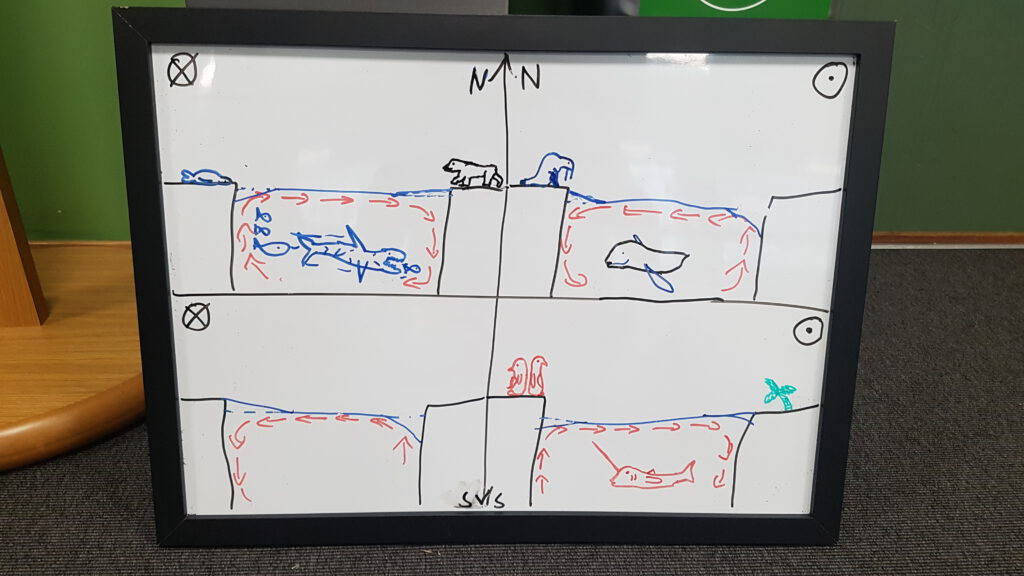 Shared online slides
But this type of negotiating of meaning can also happen in a virtual space. We have used shared online slides during group work in both digital and in-person teaching. The slides provide an easy way to provide figures and questions the groups can work on, and you can also add one slide for each group where they write down a summary of their discussion or answers key questions. The sharing of online slides and collaborative writing on them provides several opportunities:
You can keep track of the groups' progress by looking at their slides. Especially in digital teaching, where you cannot as easily eavesdrop on the students' discussions, it is difficult to visit all the different breakout groups and get an idea of their progress. Students often dislike it if the teacher jumps into their breakout-group unannounced (ehem, some teachers dislike doing it, too…). We have experienced that students prefer the teacher to pay attention to the slides and not visit the breakout-groups uninvited.

You can choose to allow the students to look at the other groups' slides. This gives an opportunity to help the students if they feel they get lost or need some ideas to proceed with the discussions.

You can review the slides from the different groups and make a summary after the group activity, prepare how to structure a discussion based on the points different groups wrote down, or how to proceed (giving students more or less time in the group, picking up or dropping a topic, …).

The students have access to the shared slides — and thus their combined notes — after the lecture
Anecdotal evidence, but students that are asked "which ice cube will melt faster, the one in salt water or the one in freshwater?" without also being asked to sketch the mechanism they base their answer on, almost always get it wrong (or right only for the wrong reasons). This year's class all came to the correct response based on the correct mechanism (see below)!

Assigning responsibilities to break up established roles
Group dynamics can be tricky, and groups very easily fall into pattern that might engage students very unequally. To facilitate shared responsibility for taking notes, sticking to the topic of discussion, or reporting back from group work, you can assign and re-assign the roles based on semi-random criteria. For in-person teaching, you can use their birthday (e.g. birthday closest to Christmas, or 'today'), or other semi-random information to distribute roles. In online teaching, you can also use the students' physical location as a criterion. You can, for instance, ask the student located furthest south/north/east/west to report back from the group. The students will need to first figure out who is responsible for each role and then follow through with that. Great icebreaker, and not always the same person taking notes or reporting back!