It doesn't feel like it, but today marks the 7-year-anniversary of my first blog post on my "Adventures in Oceanography and Teaching"! To celebrate, I sent out this call to action (and please feel free to respond, no matter when you are reading this):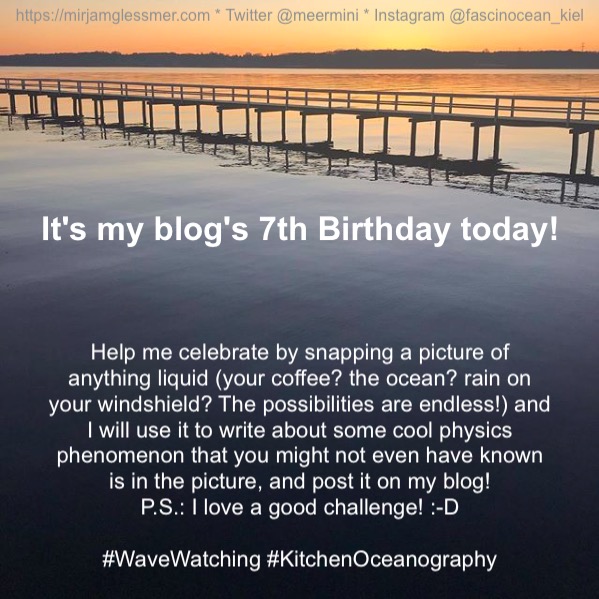 Below, I am sharing the pictures that people sent me plus my thoughts on them, newest on top. Pictures that reached me after August 28th 2020 will be posted in follow-up posts! (Keep them coming, I love it!)
21:55 — Phil (San Francisco)
21:06 — Clark (Bay of Fundy)
Clark wrote an entire thread explaining this awesome observation in the Bay of Fundy. You should totally check out the whole thread & explanations on Twitter, but I had to share this video so you can see what an exciting situation it is!
20:51 — Elin (Bergen)
18:14 — Simone (Hamburg)
15:18 — Nena (Bodensee)
15:13 — Jeffrey (Boulder)
Wow, this video is super tricky! Please check it out — volume up!
At first, I thought that the periodicity was set by eddies shedding periodically after water had washed over the obstacle. But after about the 50th time I looked at the video, the obstacle (is it driftwood?) seemed to start moving. If it is actually moving, the periodicity makes sense: The wood is trapped in place (you see that on the far side of the river) but it can move a little. It's bopping on the water, floating at whatever height the waterlevel is at, but at the same time acting as a dam and trapping water on its upstream side, thus influencing the waterlevel. So this is basically a recharge-discharge oscillator. Maybe. Or maybe not. Any ideas, anyone? This is really tricky!
12:38pm — Gabriela (Lüneburg)
11:49am — Gabriela (Lüneburg)
11:39am — Gabriela (Lüneburg)
11:20am — Katharina (Hamburg)
I guess I said I liked a challenge… Screenshots with comments below! And check out the sound in the movie! Volume up!
10:46am — Astrid (Hamburg)
10:38am — Sara (Klein Waabs)
10:37am — Florian (all over the world!)
9:09am — Gabriela (Lüneburg)
Honestly, what jumps at me most is my ADORABLE niece who's saying Kaffefoto ("coffee pic"). But then there is also the puzzle of why the coffe coming out of the machine looks so much lighter than when it's in the mug (underneath the foam)? Well, the foam is the clue here! When there are a lot of airbubbles in the coffee still, they reflect light differently (i.e. from all different directions, making it look white, rather than directional, showing either the color of the coffee or a reflection) than when the coffee has settled down and the air bubbles have gone away.
9:01am — Kristin (hiking somewhere near Bergen)
9:01am — Siddharth (

Sadashivnagar)
Oh I love this! I think that what Sid doesn't show us on the very right is a narrow connection to a second body of water, on which waves are generated by wind. (Alternatively, there might be something there at the very right just outside the frame that is making waves, such as a bird or a fountain, but I don't think that's the case. Birds usually don't move this regularly for long enough to generate this wave field even before you started filming and then throughout the whole movie. Fountains usually generate concentric waves (unless there are several fountains, in which case this would be a trick question ;-))) So let's assume that wind-generated waves from a second body of water pass through a narrow inlet onto this pond. As they pass the narrowest part, they start spreading to all directions, forming concentric waves that grow over time. Well, almost concentric, because the narrowest part isn't a perfect point source. Therefore we don't see diffraction at a slit, but rather at a wider opening.
8:58am — Torge (Kiel)
Not a picture, but even better: He managed to fix the problem we had been having with the co-rotating video of our rotating tank. Super excited! If I wasn't so busy today (slightly underestimated how many pics my dear friends would send me!) I would go try it out right away!
8:51am — Sam (Manchester)
8:28am — Ronja (Nordsee)
8:13am — Elsa (Bergen)
7:26am — Kati (Schönbrunn, Wien)
7:07am — Marisa (Hamburg)
6:26am — Désirée (Möhnestausee)
6:17am — FrozenBike (Khajoo Bridge in Isfahan)
I'm posting a couple of screenshots from that video to make it easier to discuss…
6:06am — Chirine (Kiel)