Creating waves and watching them interfere. (deutscher Text unten)
You might not have guessed it from reading about our waves meeting over a sandbank experiment, but we weren't doing in purely for its entertainment value. Our goal was to see how waves interfere, because the theory of interfering waves seems to be counter-intuitive in some cases. A second experiment we have been doing on this topic is shown below. We create waves by dripping water drops on the water surface and film (and in some cases also watch) from below. Movie at the end of this post!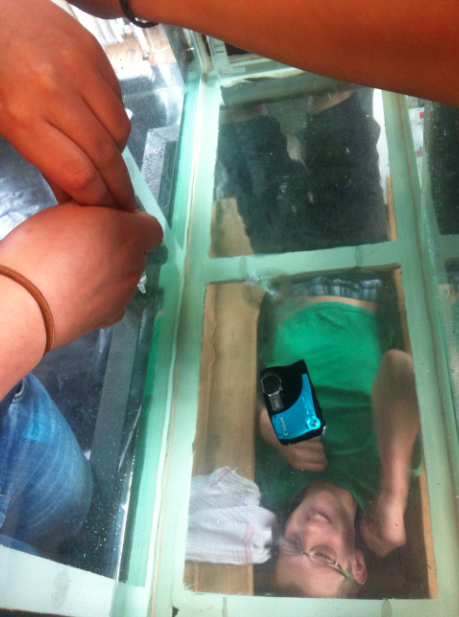 Obwohl es sicherlich nicht danach aussah, haben wir das  Experiment mit den Wellen auf der Sandbank nicht nur aus Spaß veranstaltet, sondern durchaus mit einem wissenschaftlichen Hintergrund: Wir wollten uns ansehen, wie sich mehrere Wellen überlagern.
Von oben werden Wassertropfen in den Tank getropft, das daraus entstehende Wellenfeld wird von unten gefilmt (und in einigen Fällen auch beobachtet).